Description
🚚 5-8 Working Days Delivery & Free Shipping
😊 60 Days Return
🎉 5 Years Warranty
Asjmreye 4D massage chair is the best-selling one in the US. With advanced 4D technology and ergonomic SL-track design, with 24 Airbags of Squeeze Massage and Intelligent Massage Hands, making you enjoy a personal massage from the head to the leg. It is equipped with 6 types of automatic massage programs, 3 levels of massage speed adjustment, and 3 levels of massage intensity adjustment. Customize the most suitable massage program for you according to different body types and requirements. This massage chair is 100% tested for performance and reliability before shipping and is guaranteed and protected with a 5-year warranty.
Product Details:
✔️ Zero Gravity
✔️ Ergonomic SL - Track
✔️ 24 Airbags Massage
✔️ Waist Heating
✔️ Remote Control
✔️ Automatic Smart Body Scan
✔️ Bluetooth Audio & Ambient Led Lighting
✔️ Foot Roller Massage
✔️ 6 Massage Modes
✔️ 5 Massage Techniques
Why Buy From Us
🔥🔥The following are 6 more great reasons to buy from us.
✔ We put our customer at the first place
. If it is not suitable for you, it is broken, you change your mind, or send it back without reason, we are still glad to refund you every penny.
✔Any product purchased from ASJMREYE is eligible for free partial parts replacement service for 5 years with proof of purchase and invoice. Compared to our brand,
any other brands and platforms (such as Amazon. Ebay, Walmart, etc.) that do not offer this kind of customer service.✔Returning a product is very easy
. Just contact us and we will give you a return number and the returning address so that the after-sales warehouse can process it as soon as possible.
✔If you find the product you purchased is cheaper at another online store
 (configuration and performance are the same), just let us know. We'll deal with it and beat the competitor's price nicely.
✔We insist that you will like everything you purchased from us
. If there is any unpleasantness, just let us know and we'll do our best to satisfy you.
✔Ordering from ASJMREYE is 100% safe and secure
, so you can rest easy. Your personal information is private and will never be shared, sold or rented to anyone.
Shipping Service
Shipping Costs & Sales TAX
Free Tax & Free Standard Shipping on all items.

Shipping Location
1. We delivery to U.S
2. P.O. Box or APO/FPO/DPO and International delivery is not available now.
*Please Attention
Please note that the Massage Chairs will be delivered by truck. Therefore, there will be a slight delay in delivery time. The delivery guys will contact customers prior to delivery to make an appointment.

Since The Part of the products Comes With Electrically charged or magnetic products, It Is Classified As Dangerous Goods Transportation According To The Transportation Company's Regulations.

Therefore, The Transportation Is Relatively Slow To Ensure The Safe Delivery Of The Goods To Every Customer.

Shipping Estimates & Notification
1. Ship in-stock orders usually within 2-3 business days you placed them.
2. Shipping time:U.S. : 5 -8 working days (Fedex)
3. Tracking numbers will automatically be emailed to customers once the order is shipped..

For any other questions, please contact us via Service@asjmreye.com.
Complete shipping policy check the bottom menu
I am extremely satisfied with my massage chair and I use it almost daily and I appreciate it very much thank you. I have also recommended this chair to my friends and I hope they eventually get one and enjoy it as much as I do.
Very nice love it
I am going to refer you a client
The Massage Chair works as advertised! I am very please with it!
I use the massage chair at least 4-5 times a week and my wife does the same. If you were to compare the cost with a massage I would be into it about $300 a week for massages. First of all the chair is extremely comfortable just to sit in and when you turn on the massage and heat it takes you to the next level. I am very pleased with the foot massager and the zero gravity ability. The back massager goes all the way down to your hamstrings. I am 6 feet tall so that's pretty good. You can adjust the width and concentrate on specific areas or use the preprogramed buttons. The interactive audio also works quite well. I am very satisfied with my purchase. It was simple to put together, you only had to attach the foot massager to the chair.
LOVE THIS CHAIR!
Very attractive chair.
The company was very communicative about the delivery and messaged me a lot and even called to talk about assembly. They were great!
For half the price of the more expensive chairs, this was one purchase I do not regret at all!
Relaxing!
Shipping of this item came much faster than originally stated. Nice surprise. I have been using this massage chair almost every night for the last 3 weeks. It helps me to relax after a long day. I love the heating feature and the full body track and foot massage functions work all my tired muscles. These seems to be several pre-programmed options . It is very easy to use. I just love it!
Payment & Security
Your payment information is processed securely. We do not store credit card details nor have access to your credit card information.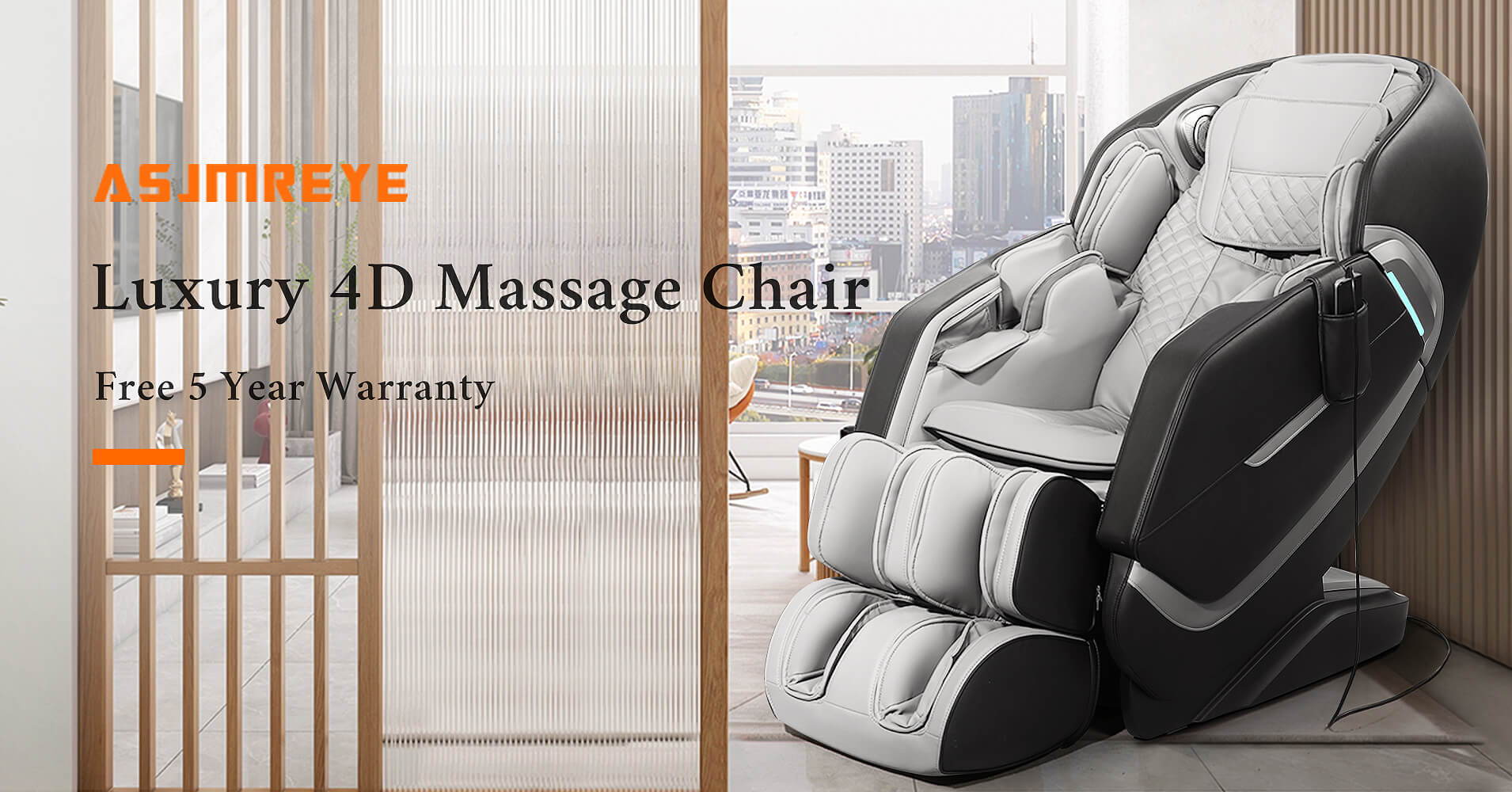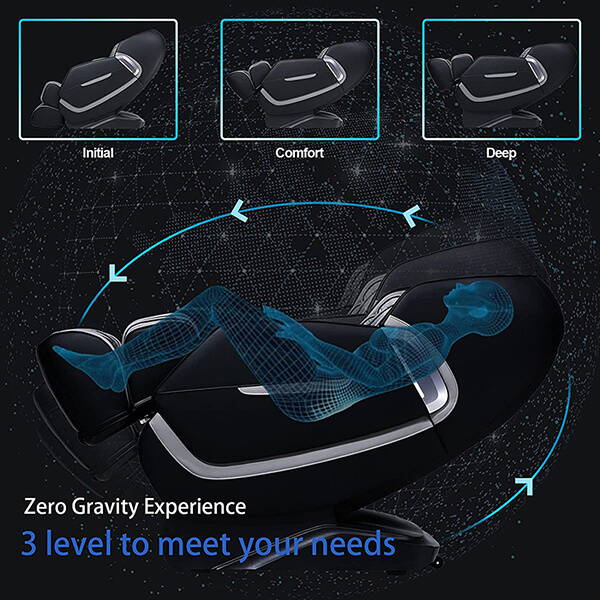 There are 3 levels zero gravity angles. Zero Gravity Mode can effectively reduce heart pressure and stimulate blood circulation. Let you enjoy the most extreme massage in a completely relaxed position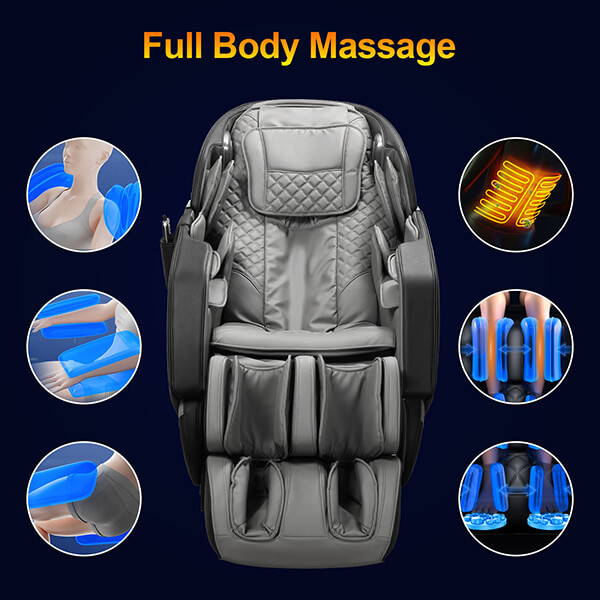 Full Body 24 Airbags Massage
24 airbags located at the shoulders, arms, pelvis and feet, and the calf areas, offering a full body air compression massage experience. Increasing blood circulation throughout the body to relieve pain and tension.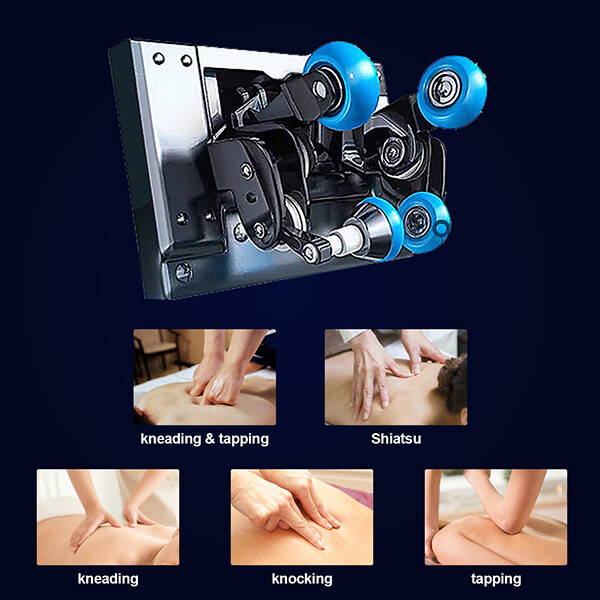 Intelligent Massage Hands
The intelligent mechanical massage hands imitate the five massage techniques: kneading, tapping, shiatsu, knocking, and rolling. Provides flexible acupoints massage for the neck, shoulders, back, and leg areas. Replicates the sensation of real human hands.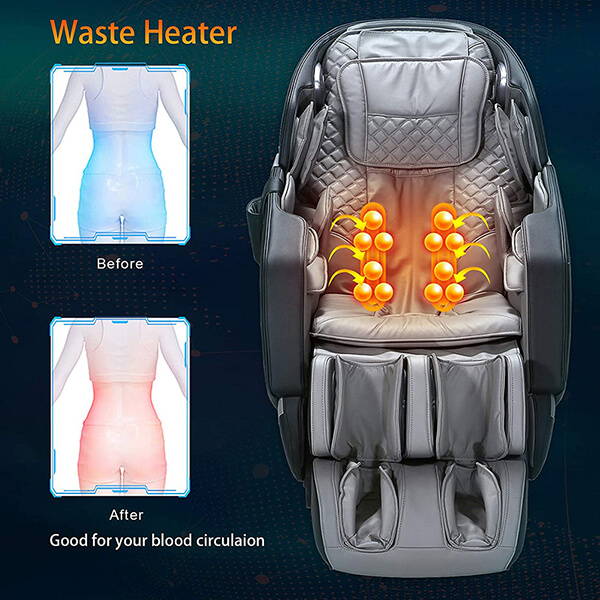 The heating pads on lower back area with approx 40℃, which not only can stimulates blood circulation, but also can soothe your sore muscle or damaged tissues.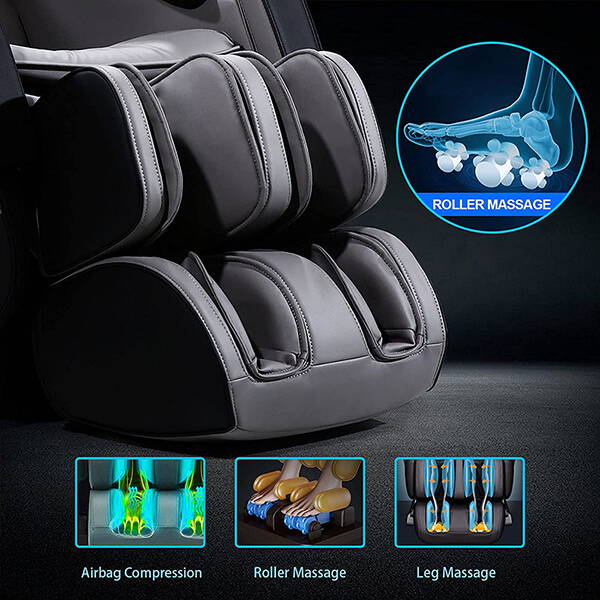 Leg Multiple Massage Experience
The airbag wraps the entire instep for a pressure massage. And with airbags on the calf area compresses the leg muscles and relief the soreness of the legs.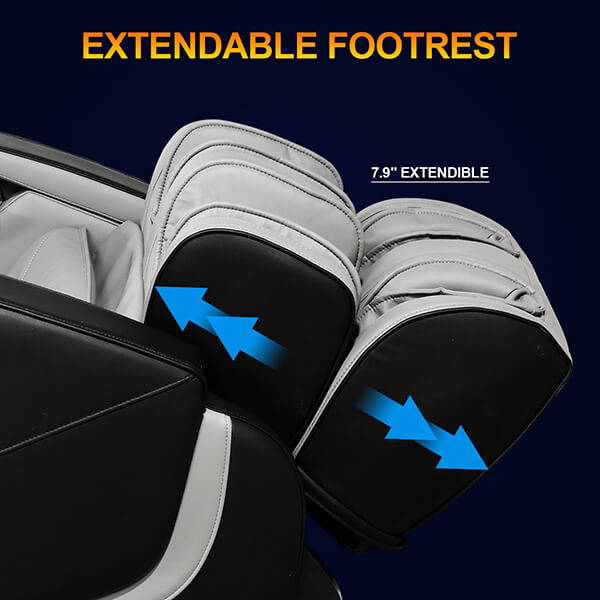 The footrest mechanically extends, then retracts, in order to create a custom length set to the user's legs. Extends up to 7.9"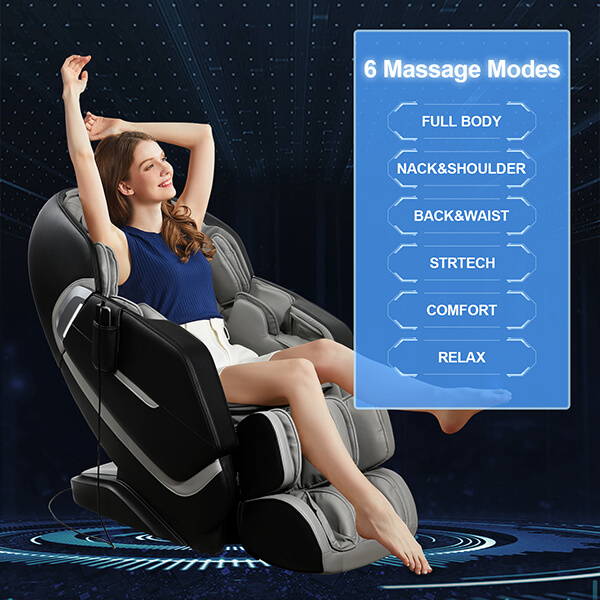 Asjmreye 4d Massage Chairs designed with 6 massage modes, you can choose the most suitable mode for targeted massage programs. Adjust to smart massage and partial massage at any time according to your preference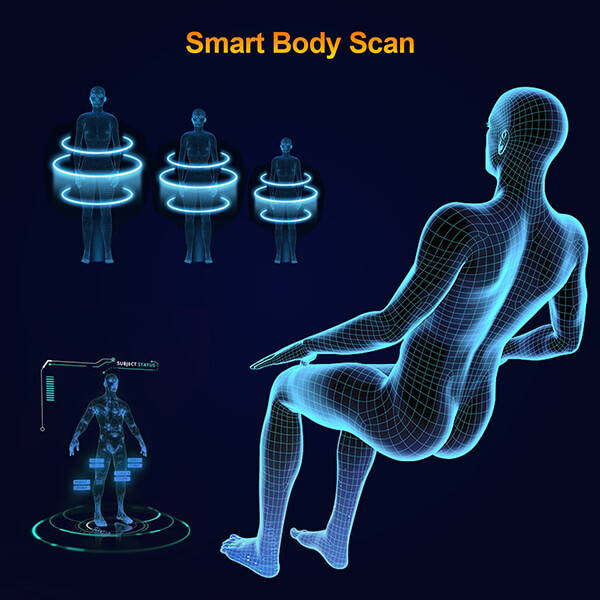 Smart body scan refers to your body height, weight and spine data detection, then adjust a proper massage position to match your neck, back, waist and so on. Only targeted massage is an effective massage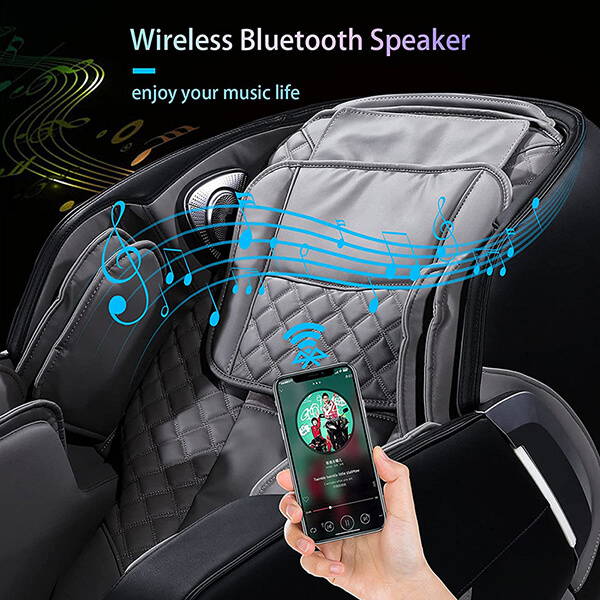 Wireless Bluetooth Speaker
The Immersive audio speakers are located on the upper arm area of the product, music can be played by connecting the bluetooth to a smart phone or other Bluetooth device, and any other form of audio to enhance the mental experience of your massage.
SPECIFICATION:
Rated voltage: 110-120V 60Hz
Rated power: 150W
Rated time: 20Min
Safety structure: Class I
Material introduction: PVC, PA, steel parts and electric and electron parts
Seat Width: 20.87''
Maximum User Weight: 330 lbs.
Maximum User Height: 6.3 ft
Massage Chair SL Track Length: 135 cm/53.15 inches
NOTE:
ASJMREYE 4D massage chair is fully assembled beforehand.Package can be delivered directly to the door of a single house. If the delivery location is an apartment building or residential community, package will be delivered to the community gate so long as truck can enter.
SHIPPING:
Our warehouses are in California & New Jersey & Georgia. The Massage Chair is free shipping and you will receive it within 5-8 working days